Tonight we had Chicken Enchiladas for dinner along with a new to me Mexican Rice recipe.
You make it in a rice cooker and I loved the way it turned out. I did it in my microwave rice cooker. Do you have one?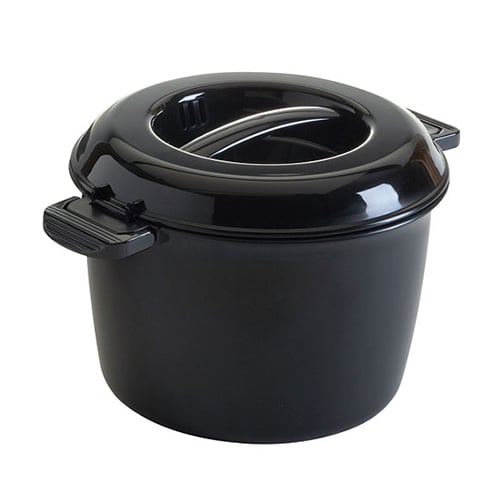 Mine
is from Pampered Chef, but you can buy similar ones elsewhere. Its a nice low tech kitchen addition.
Chicken Enchilada
recipe can be found
here
.
1 cup uncooked rice
2 1/4 cups water
2 Tablespoons chicken base ( or omit water & use chicken broth instead)
2 Tablespoons double concentrate tomato paste (the kind in the tube)
1 Tablespoon minced garlic
1/2 cup chopped onions
2 Tablespoons butter
1 dasy Tony Chachere's Creole Seasoning or your favorite all purpose seasoning
1/4 cup chopped green onions
Put all except for green onions in microwave rice cooker. Cook for approximate 15 minutes or until all liquid is absorbed. Fluff and let sit with lit removed for 5 mins. Sprinkle with green onions.
About once a year I make my hubby a Rhubarb Pie which is one of his favorites. I did not grow up eating Rhubarb, so the taste is still a bit foreign to me, but I never met a pie I didn't like! The hubby has a few rules about this pie - use only rhubarb, do not refrigerate and wait until the next day to eat. He says it tastes better that way and who am I to argue, although the waiting until tomorrow part is awfully hard! My rule is add plenty of sugar because let me tell you...rhubarb is tart!
Crust
2 cups all purpose flour
1/2 tsp salt
2 tsp sugar
2/3 cup shortening
5-6 Tablespoons ice water
Filling
4-5 cups rhubarb sliced into small pieces
1 1/3 cups sugar
1/3 cup flour
dash of cinnamon
1/8 tsp orange extract
2 Tablespoons butter, chopped in small pieces
Directions

Heat the oven to 425 degrees F. Combine the flour, salt and sugar in a large bowl and fluff with a fork. Cut the shortening into the flour with a fork or pastry blender. Stop as soon as the sheen of the shortening disappears and the mixture is a bunch of coarse pieces. Sprinkle a tablespoon of water at a time over the dough, lifting and tossing it with the fork. When it begins to come together, gather the dough, press it into a ball and then pull it apart; if it crumbles in your hands, it needs more water. (It's better to err on the side of too wet than too dry.) Add a teaspoon or two more water, as needed.

Gather the dough into two slightly unequal balls, the larger one for the bottom crust and the smaller one for the top. Dust with flour and roll the dough until the diameter is an inch or 2 larger than that of the pie pan. Lay the rolling pin a third of the way from one of the edges. Roll the crust onto the pin and then unroll the crust into a 9-inch pie pan and shift it into place.

Make the filling: in a large bowl, blend the rhubarb, sugar, flour and cinnamon. Pour into the crust-lined pie pan. Dot with butter. Roll out the top crust. Then place the top crust over the rhubarb; trim, seal and cut several vents. Bake for 15 minutes; reduce the temperature to 350 degrees F and bake 25 to 30 minutes more, or until a bit of pink juice bubbles from the vents in the crust.
What's blooming in your yard right now? Hydrangeas are loaded right now!